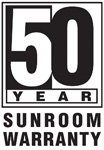 What makes a Betterliving Sunroom unique? The highest quality materials on the market go into making a Betterliving room. Our product goes through rigorous testing and specific engineering unlike other inferior products…which is why we can back our sunroom with a FIFTY YEAR manufacturer's warranty!
No fine print…nothing hidden…and nothing left out. Our simple to read and understand warranty is so straight forward; it doesn't even fill a standard 8.5 x 11 sheet of paper. While some companies offer vague coverage and use misleading terminology, Betterliving stands behind our product, and we provide you with all of the information you need to feel comfortable when making such an important decision.
In the sunroom industry, many "buzz words" are thrown around like "Lifetime Warranty" and "Full Material Coverage". Unfortunately, many of the companies using those terms neglect to tell you about the pro-rated fees and items that are not covered in the fine print of their lengthy and confusing warranties.
A 50 YEAR warranty is only as good as the company who stands behind it. You need to be able to count on the manufacturer to be in business if you ever need warranty service on your sunroom. With Betterliving, we believe you will have the peace of mind that comes with choosing the industry LEADER whose product manufacturer has been perfecting QUALITY products since 1946!
Product Warranties
Sunrooms, Porch Enclosures:
• 50 year manufacture warranty on all parts & pieces
• 2 year labor warranty (including replacing damaged screens)
• Fully transferable, if house is sold
Awnings:
• Lifetime limited on structural parts
• 15 years on all moving parts
• 12 years on sunbrella fabric
• 5 years on motor